Raspberry mousse cakes recalled due to norovirus
Retailers in Quebec asked to pull the product from shelves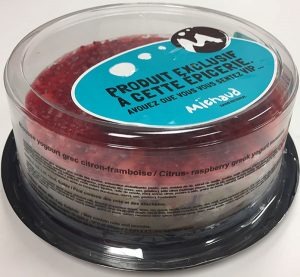 The Canadian Food Inspection Agency has issued a recalled on various raspberry mousse cakes sold in Quebec due to norovirus.

The federal agency is asking that retailers not sell or serve the recalled products and is urging them to contact their suppliers to determine if they have the affected product.

These products may also have been sold frozen or refrigerated, or clerk-served from bakery-pastry counters with or without a label or coding.

The recalled products include:



Michaud brand citrus-raspberry greek yogurt mousse


Jessica brand chocolate raspberry mousse cake


Laura Secord red berry chocolate mousse cake


Top dessert mousse sampler cake



There have been reported illnesses associated with the consumption of this product.

People with norovirus illness usually develop symptoms of gastroenteritis within 24 to 48 hours, but symptoms can start as early as 12 hours after exposure. The illness often begins suddenly. Even after having the illness, you can still become re-infected by norovirus. The main symptoms are diarrhea, vomiting (children usually experience more vomiting than adults), nausea and stomach cramps.