10/07/2020
Sobeys makes a major private label push
Retailer gives Compliments a bold new look and launches its biggest private label campaign in the brand's history
Sobeys has revamped its Compliments private-label brand with a new look, new marketing and new products.

The overhaul of the program began two years ago, as part of parent company Empire's three-year "Project Sunrise" transformation strategy. "We saw that there was a significant opportunity for us to improve our private-label assortment within the marketplace," says Seanna Rishor, vice-president of private label at Sobeys Inc.

Using customer data, Rishor says the team was able to identify assortment gaps, or categories that Compliments wasn't playing a role in, and develop new products. For example, Compliments has expanded into new categories such as Greek yogurt, organic baby food, plant-based dips, family-size bathroom tissue and paper towels, goat cheese, and coffee with single dose K-Cups.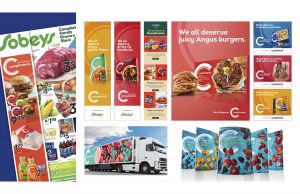 One of the goals of the revamp was to deliver a private label brand that worked across Empire's banners, such as Sobeys, FreshCo, Foodland, Thrifty and Safeway. "We worked with the merchandising team through category resets, ensuring we were addressing any assortment gaps, increasing our distribution and properly planogramming," says Rishor.

Compliments' new look includes colourful packaging and bold graphics to stand out on the shelf and differentiate from the competition. "We were given a really great opportunity to breathe some new life into the Compliments branding," says Rishor. "Compliments does have significant brand equity... but we felt that we needed to modernize it."

This past August, Sobeys Inc. launched its biggest-ever marketing campaign for Compliments. The integrated campaign included TV spots, online and digital ads, digital billboards, transit shelter advertising, in-store merchandising, and free product samples through Sobeys' new Voilà e-commerce service. In addition, 100 Compliments tractor-trailers now feature the new branding, serving as mobile billboards as they travel across communities.





"We wanted to reposition the brand in the mind of Canadian consumers for delivering quality, taste and value for the money," says Sandra Sanderson, SVP of marketing at Sobeys Inc.

The campaign, which ran until Sept. 23, featured Compliments' new tagline, "We all deserve Compliments." "It's about the fact that our customers deserve a brand that helps them to make every day a little tastier, a little easier and more inspiring," says Sanderson.

It was also critical for the company to build pride and excitement among its employees, especially those on the frontlines, says Sanderson. So, Sobeys placed its billboard and transit shelter ads near its stores and outfitted store team members with Compliments T-shirts.

Sobeys also did a complete overhaul of the Compliments.ca website, with a new look and new ideas. "This refreshed website is a great source of inspiration for consumers to discover new products," says Sanderson. "And there a lot of new ideas on how they can serve up the products, for example, serve up these meatballs three different ways."

Over the next 18 months, Sobeys Inc. will continue to review categories and launch new Compliments products.

"We are relentlessly focused on the quality of our products and have a rigorous product development process to ensure we deliver excellent and consistent quality," says Rishor.