Sobeys' plastic bag effort among RCC winners
Excellence in Retailing Award winners celebrated during Store Conference in Toronto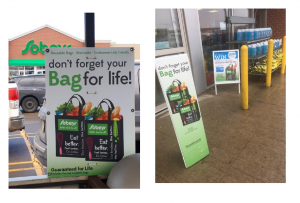 An effort to reduce plastic bag use earned Sobeys an award from the Retail Council of Canada this week.

The Environmental Leadership honour was part of the RCC's Excellence in Retailing Awards handed out during Store Conference in Toronto late last month. The awards are handed out in 12 different categories including e-commerce, in-store experience, merchandising and mobile. Other grocery industry winners included Thriftys (owned by Sobeys) in the Retail Marketing category and Federated Co-operatives Limited in the Philanthropic Leadership category.

"The winners of the Excellence in Retailing Awards are true exemplars of Canada's retail best," said Diane J. Brisebois, president and CEO of Retail Council of Canada in a release. "Each of these retail organizations is driven to deliver superior customer service, innovative business solutions and leadership in store operations. We are inspired and improved as an industry by their many accomplishments."

The winning environmental program for Sobeys launched in Prince Edward Island in March. In its submission form, Sobeys explained the motivation behind the effort. "While plastic bags are convenient for retailers and customers, the process of making plastic bags is highly energy and resource intensive," stated the submission. "Plastic bags can be recycled multiple times but many end up in landfills where they can take 500 to 1,000 years to breakdown and potentially contaminate ground water and soil."

Sobeys set three goals: encourage customers to use reusable bags, provide new recycling opportunities for customers and reduce the amount of plastic in single use bags.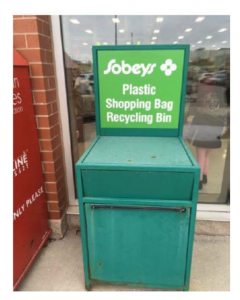 Sobeys determined that the bags it used in Atlantic Canada had a higher plastic count than the bags used in other markets. So Sobeys got its suppliers to reduce the amount of plastic in its bags by 30%.

The new reduced-plastic bags equate to 33 million fewer plastic bags in market per year and because they are lighter, pollution from transportation will drop by 30%. The bags will roll out across Atlantic Canada throughout this year.

READ: The ongoing battle to ban plastic bags

In its submission, Sobeys also contended that the best solution to tackle the problem of bags winding up in landfill is to change behaviours rather than introduce bans or charge fees, a common tactic in recent years.

To encourage reusable bag use, in the first week of March, Sobeys customers who spent more than $50 and used a reusable bag could choose a reward of 10 bonus Air Miles or a free reusable bag—which Sobeys branded a Bag for Life. Through the rest of the month, customers who used their reusable bags were eligible for additional draws for 1,000 Air Miles, and parking lot signage reminded customers not to leave their bags in the car.

READ: Halifax considers ban on plastic shopping bags

Aside from reducing the plastic content in its bags, Sobeys bag supplier Interplast will recycle old bags into new bags and other plastic goods. And bins for shoppers to drop off their plastic bags have been added to all Sobeys stores within the province.

Meanwhile, Sobeys-owned Thriftys was named joint winner in the Retail Marketing category along with Kitchen Stuff Plus. Thriftys won for a multi-facted marketing campaign to celebrate the brand's 40th anniversary and reinvigorate waning interest of long-time customers.

The campaign included refreshed branding around the stores "Eat Happy" brand promise. One component included advertising to reinforce the close connection to local food suppliers. The "Source Local Eat Happy" advertising included "selfie style" ads featuring more than 20 local suppliers along with some of their own personal food story.