The latest food and nutrition trends presented by The Test Kitchen Inc.
Summer 2012
Trending Up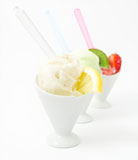 Mooove over cow's milk; there's a greater variety of cheese, yogurt and ice cream products made sheep and goat milk.
Alternate Dairy Products |
We're seeing a greater variety of cheese, yogurt and ice cream products made from dairy other than cow's milk. The Canadian goat dairy industry has seen a 300% increase in volume in the last 5 years. Companies like Woolwich Dairy are producing goat gelato and even goat cheese-based salad dressings. Sheep's milk yogurts and cheeses are now easier to find and artisan cheese makers like Montfort Dairy Co Ltd. are also experimenting with water buffalo cheese.
I'll Have the Dark Please |
Dark meat is growing in popularity in the U.S. as value conscious consumers learn to appreciate chicken legs for their meaty flavour and moistness. Some popular chains like Chipotle Mexican Grill predominantly use dark meat and Whole Foods has reported thigh shortages. Canadians are lagging behind on this trend and white meat is still the preference according to industry leaders.
Frankenfruit |
Growers continue to cross our favourite fruits in order to grow new varieties with specific taste and texture characteristics. The latest is the Papple out of New Zealand, which is an apple-pear cross. Other recent hybrids include the Pleurry (a plum-cherry cross) and the Nectoplum (a nectarine-plum cross).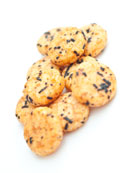 Sea vegetables are showing up in snacks and side dishes
Sea Vegetables |
Long a staple of Japanese diets, the acceptance of sea vegetables is growing in North American because of their nutritional value, especially their mineral content. CCD Innovations has called out sea vegetables as an upcoming ingredient, particularly in snacks and side dishes. At the recent SIAL in Montreal, attendees sampled "Salty Fingers", a sea vegetable with crunch!
Research Shows

With a Side of Social Responsibility | Millennials are the demographic that eat out more than any other generation, so smart restaurants want to gain their loyalty. According to a report released by Technomic, millennials connect best with brands that show social responsibility. Among other attributes, their preferred restaurants use sustainable practices, choose meat suppliers who treat animals humanely and support their community through charitable donations.

Grab a Slice | The Pizza Consumer Trend Report (Technomic) reports that pizza consumption is up with 41% of consumers eating a slice once a week compared to 26% just 2 years ago. In Canada, while pizza remains one of the top items ordered from restaurants (NPD), frozen pizza sales have also picked up over the last decade as consumers look for affordable and convenient dinner options.

Feeling the Pinch | A report sponsored by MaxPoint Interactive found that consumers are changing their behavior and adopting more cost- conscious practices. Almost half of the respondents use some form of couponing (digital or clipped), 90% of shoppers regularly research products online before purchasing in-store and 62% of shoppers regularly make grocery lists before shopping. However, at the same time, monthly spending has actually increased post-recession.

Nutrition News

Hedonic Hunger | Italian researchers are exploring why people continue to eat even though they are physically satisfied. Their research has identified a physiological link, involving two chemicals that may override the cue for satiety and cause individuals to eat even when full. Although the initial study was too small to be conclusive, further research could lead to more understanding of the causes of obesity.

Chaga Tea | The newest cure-all tea to hit the market is made from a medicinal mushroom that grows on birch trees. Chaga (also known as cinder cork) is reported to contain antioxidants that will boost energy, support the immune system, improve digestion, boost longevity and anti-cancer activity. Currently, there are no studies to support the safety of consuming chaga, so as with all medicinal plants, a health care professional should be consulted before adding it to your diet.

Healthy on the Run | Convenience stores are increasingly competing with traditional grocery retailers for market share and now consumers will have more healthy options. In a pilot project in British Columbia, Mac's Convenience Stores are offering 3 grab-and-go entrées that are approved by the Heart & Stroke's Health Check program.

Emerging Flavours & Foods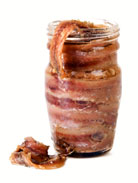 Consumers are giving anchovies a second taste as they offer a sustainable source of omega 3 fatty acids.
Extra Anchovies Please! |
The much-maligned anchovy is emerging as an ingredient that packs a huge umami punch for chefs, food truck operators and food writers. As a sustainable source of omega 3 fatty acids, consumers are giving anchovies a second taste. Tweeting foodies were a buzz about the benefits of anchovies after a recent New York Times article about the flavourful fatty fish.
Flavoured Honey |
Honey was a perennial favourite with 54% of chefs on the 2012 Hot Chef's Survey and our trade show surveys have also shown a proliferation of honeys infused with concentrated flavours. Some sweet examples include Black Raspberry, Peppermint and Tangarine from Beary Berry Honey in Alberta or Cinnamon, Saskatoon Berry or Peach flavoured honey from Orchard Blossom Honey.
Flax Shakers |
Although health experts have been touting the benefits of eating flaxseed for years, we've noticed very little product innovation until now. Omega Crunch is a great example of the new roasted shelled flax products to hit supermarket shelves. Available in Regular, Maple and Garlic flavours to shake over yogurt, cereals, salads, entrées.
The New Mixer |
Taking a cue from beer manufacturers who have been flavouring beer with lime, mint and ice tea to engage a larger customer base, mixologists across Canada and the U.S. are using beer in refreshing cocktails. Beer adds lightness and drinkability to mixed beverages without watering them down. For additional inspiration, pick up the recently released Beer Cocktails book by Howard and Ashley Stelzer.
Fun Fads

Having Fungi | As consumers strive to get back to nature with food, urban gardening both indoors and out is booming. For those who love mushrooms, several companies offer grow-your-own mushroom kits and no "green thumb required". One company, Back To The Roots will soon have a product available in Canada and are even experimenting with packaging infused with herb seeds that can be planted after the mushrooms are grown.

Fonuts | Just when we thought the donut craze was over, a new concept has revitalized America's love for donuts. A California pastry chef has created 'Fonuts' a doughnut that is baked or steamed (not fried). The gourmet menu also includes gluten-free and vegan options. We believe this "healthier donut" notion has franchise potential and could breed more faux pastry concepts.

We're Jammin' | Coconut is still topping trend watcher's hot lists and product innovation has boomed. One of our newest favourites is coconut jam. A key ingredient in a Malaysian breakfast treat called Kaya, where it's served on toast alongside runny eggs. In Canada, CocoVie carries a wide range of coconut products including coconut jam, available online and at some fine food stores in the Toronto Area.