U.K. grocers show developments in space, range and formats
Here's a tour of U.K.
Spending two weeks back in the U.K. office, located just outside London, provided a perfect opportunity to visit a range of grocery stores, including hypermarkets, discount stores and convenience stores.

I was keen to visit a variety of formats, as discount and convenience stores, along with online, are the fastest growing channels in the U.K. grocery market, challenging the once dominant position of large format stores.

Consequently, large format store operators are looking to improve the productivity of their stores by introducing new product and service concepts. I was keen to get a good sense of what changes have been taking place.

Space development

My first stop was Tesco Extra in Woolwich, London. This hypermarket opened earlier this year, and is a great example of the retailer's desire to open larger format stores in high priority locations. It showcases some fantastic new initiatives that creatively use space in-store which is becoming available as non-food sales shift online.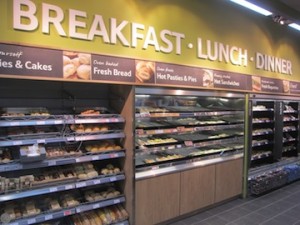 One such initiative is a dedicated food-to-go concept. This is located just inside the store entrance, making it highly convenient for walk-in customers. Woolwich is one of five town centre stores where Tesco has introduced this concept, and it is already proving popular with high street shoppers and nearby office workers.

The whole concept delivers multiple meal solutions for all times of the day, helping to deliver stronger authority in Tesco's food-for-now and food-for-later offer. A menu at the entrance highlights options and a central counter is rotated throughout the day to offer breakfast, lunch and dinner solutions.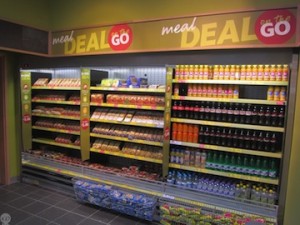 Many products such as bread and sandwiches are made in-store, with an emphasis placed on communicating better quality, while multiple meal-deals promote value.

Range development

From there it was a visit to Aldi, the U.K.'s leading discount operator, to see what is behind its continued strong growth. New product development has been a key element of this, with a strategy focused on creating interest in-store and encouraging higher basket spend. The retailer is looking to target new categories with strong growth potential, and cater for a wider range of shopping missions.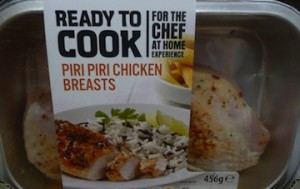 One such product that caught my eye was a range of chilled ready meals, sold under the 'Ready to Cook' brand, with the tagline 'For the chef at home experience'.

The seven-strong premium range aims to provide restaurant quality at home, with the product packaging and presentation particularly impressive. For me, this further demonstrates just how far Aldi has come in terms of pushing its quality credentials, although price and value remain at the core of the proposition.

Format development

One of the key trends in the U.K. convenience sector is the segmentation of formats as retailers tailor their offers to local catchments.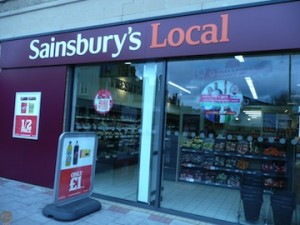 Sainsbury's with its 'Sainsbury's Local' format has been a key proponent of this, as it has rapidly expanded its convenience estate which has grown over recent years.  By the end of the year, it will operate more convenience stores than supermarkets. This is quite an achievement given that the retailer only opened its first convenience store 15 years ago.

Segmenting its store estate and developing a more relevant offer for each catchment has been important in enabling the retailer to have greater flexibility over site locations.

As part of my visits, I visited two contrasting stores in London.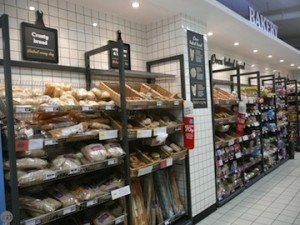 Sainsbury's Clapham is one of the smallest Local stores at 1,000 sq. ft., while Sainsbury's Earlsfield at 5,000 sq. ft., is one of the largest in the estate. This latter store was particularly interesting as it is one of only three "superfresh" stores in the portfolio. This places a stronger emphasis on fresh produce, and is a strategy that is clearly working, with around half of the store's sales generated from the category. The store had a premium look and feel with its layout, branding and shelving.

What struck me is that this larger store offers many of the features that you would expect from a supermarket, demonstrating how Sainsbury's is stretching the boundaries when it comes to convenience. These include a pizza counter, Click & Collect for the pick-up of online orders, seasonal vegetables and high profile promotions.

The further roll-out of this concept could provide a competitive edge in encouraging larger basket shops in the Local format, and providing a viable alternative to the supermarket for many urban shoppers.

Innovating at pace, Canadian style

With a reputation for innovation and continually pushing the boundaries of grocery retailing, my visit to the U.K. certainly didn't disappoint. What is interesting is that these developments are hugely relevant for the Canadian market, although each will be interpreted with its own local flavour.

While online grocery retailing has not made its mark here yet, it will develop on a larger scale over time, and large format store operators will be challenged to improve the productivity of their in-store space.

Convenience stores may not grow and develop in the same way as Sainsbury's Local, but grocery retailers will push harder to develop smaller format stores, and be in more convenient locations.  And while we may not have hard discount retailers operating here along the same lines as Aldi, discount stores are evolving. FreshCo and the Box by No Frills are two good examples of this.

So if you're ever in the U.K. on business or pleasure, taking a trip to the nearest grocery store–whatever it may be–is well worth a visit.  Keeping an eye on trends from elsewhere could give you that all important competitive advantage in the future.

All Photos: IGD Retail Analysis