Wilton sprinkles recalled over allergen concerns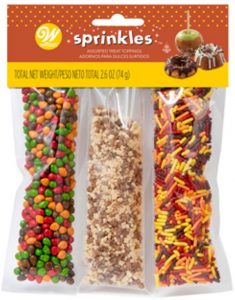 Wilton brand sprinkle products have been recalled because they contain milk, which was not declared on the label.

The recall covers Sprinkles Valentine Chip Crunch (UPC 0 70896 04277 4), Sprinkles Rainbow Chip Crunch (UPC 0 70896 45364 8), Sprinkles Holiday Mix (UPC 0 70896 27649 0) and Sprinkles Assorted Treat Toppings (0 70896 09722 4) sold in Alberta, British Columbia, Manitoba, New Brunswick, Newfoundland and Labrador, Ontario, Quebec and Saskatchewan.

The Canadian Food Inspection Agency (CFIA) is conducting a food safety investigation, which may lead to the recall of other products. There have been no reported reactions associated with the consumption of this product.