Convenience Store News Canada introduces 2019 Star Women in Convenience
Meet this year's winners from areas of the industry including sales, management, distribution and product development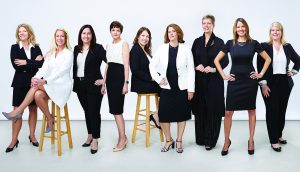 For the second year, Convenience Store News Canada is recognizing women making a difference in the convenience industry.

This year's Star Women in Convenience come from all facets of the c-store spectrum: sales, management, distribution and product development. While their backgrounds, career paths and experience all vary, one thing is constant across all the 2019 winners: these are women who get things done.

Here are the 17 women Convenience Store News Canada is celebrating this year:

Jackie Bellerose, Executive Vice-President – People Services, Carey Management Inc.

Bonnie Birollo, Vice-President, Operations, Circle K – Western Canada Division

Caroline Evans, Head of Corporate Affairs and Communications, JTI-Macdonald Corp.

Maryse Gagnon, Co-owner, Dépanneur Métabetchouan

Marie-Helene Jauron, Director of Sales, Convenience & Gas, PepsiCo Inc.

Wendy Kadlovski, Director of Operations, Nicholby's Limited

Azra Khan, Owner, RanaCorp Inc. O/A Shell Canada

Anne P. Kothawala, President & CEO, Convenience Industry Council of Canada

Sabiha Malik, Area Retail License Petro-Canada, Calgary and Area

Jan McCallum, Business Development Manager, Ricola Canada

Kaitlin Minsky, Brand Manager – Protein Snacks, Conagra Brands Canada

Charlène Néwashish, Majority Owner, Dépanneur Eneri

Kerry Ann Nicholson, Director, National Accounts, Core-Mark International, Inc.

Annè Nielsen, Director, Business Development, ITWAL Ltd.

Sophie Provencher, Vice-President, Operations, Quebec West, Couche-Tard Inc.

Élaine Roy, Owner, Petro-Canada

Vanessa Theoret, Director, Channel Delivery, Ontario Lottery and Gaming Corporation

Read all about the 2019 Star Women in Convenience, and don't forget to check out Canadian Grocer's 2019 Star Women in Grocery winners.