10/06/2016
Longo's helps shoppers buy authentic Italian foods
Partners with Italian Trade Commission on new "Made in Italy" initiative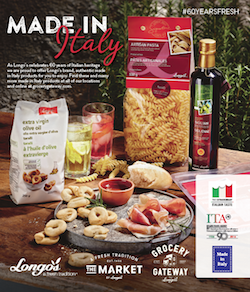 Longo's wants its customers to know that just because the package is green, white and red or claims to be "packed in Italy," a food product isn't always authentically Italian.

The grocer has embarked on a new program aimed at educating its customers about what constitutes authentic Italian products, partnering with the Italian Trade Commission on its ongoing "Made in Italy" initiative.

The new six-month marketing program includes labelling to identify authentic Italian products, recipes in the fall issue of Longo's in-house Experience Magazine, as well as a series of Made in Italy cooking classes and open houses at some of its Loft Cooking School locations. The chain is also introducing external marketing elements, including radio and public relations.

The Italian Trade Commission (ITC) first introduced the "Made in Italy" initiative last year to promote its foods and wines and stave off increased competition from inauthentic products bearing Italian-sounding names.

According to the ITC, Canadian shoppers spend as much as $3.6 billion a year on these types of agricultural products, which are often made to look like they are Italian.




Time to #TasteIt: Our #MadeInItaly Sicilian Extra Virgin Olive Oil with Swiss Twist Baguette. Today until 7pm. pic.twitter.com/C9OyOMZ3JE


— Longos Markets (@LongosMarkets) September 9, 2016



Longo's plans to promote a range of products bearing the "Made in Italy" label and identified by the official DOP (Denominazione di Origine Protetta or Protected Designation of Origin) and IGP (Indicazione Geografica Protetta or Protected Geographical Indication) certifications.

Featured products include Longo's Signature Prosciutto (aged 400 days in Parma) and Longo's Signature Sicilian Olive Oil (made from olives grown in the Paceco and Trapani regions of Sicily) as well as a variety of Italian cheese such as Pecorino Toscano.

Jenny Longo, director of private brands for the chain, says there is still a lot of work to be done in educating consumers about what constitutes authentic Italian food. "A lot of consumers think that the green shaker is authentic Italian Parmesan," she says. "It's a win-win for us to educate customers, because a lot of times the perception is that more expensive, but that's because they're authentic."

Longo's, which was established by brothers Tommy, Joe and Gus Longo after immigrating to Toronto from Italy, has an extensive history with the ITC.



We're celebrating our #MadeInItaly roots! Now featuring the finest cheeses from #Tuscany. https://t.co/XW4n8tELhD pic.twitter.com/X0QQVDTKcW

— Longos Markets (@LongosMarkets) September 19, 2016





"We've worked with the ITC because they've always been advocates of Italian products and companies," says Longo, who makes regular trips to Italy to source many of the company's private-label products.

"Customers trust us for food excellence and being first-to-market with a lot of products and having the knowledge to support them," says Longo. "It's not just putting them on the shelf—we can actually talk to the authenticity of the products."

The retailer will also be holding a series of "Made in Italy" open house at Loft Cooking School locations throughout the GTA on Oct. 29 and 30 and Nov. 5 and 6, with recipe developer and chef Emily Richards preparing recipes featuring several of its Made in Italy products.

"Italian food resonates with consumers and is pretty mainstream and I think it's an opportunity to highlight some great products and educate on where they're from," says Longo.  "There are a lot of really nice stories and romance that customers are interested in. It's food-tainment."