08/22/2014
McCain heats up freezer aisle with new campaign
Campaign and packaging promotes the joy of frozen taters
THE FROZEN FOOD AISLE IS FROSTY. It's not just plunging temperatures inside coolers of ice creams, pizzas, waffles, fries and Hungry-Man dinners. The place itself can be an inhospitable alley.

"The freezer aisle is it's own worst enemy," industry pundit Phil Lempert notes. The doors "keep shoppers at arm's length from products, unable to read packages without reaching in. If the doors fog, sales fall."

There's more, of course. The aisle itself induces teeth chattering (7% of shoppers complain supermarkets are too cold, says research from Delvinia), and it's often the last shopped. By the time customers reach the frozen aisle, their carts are full and they want to get home.

Yes, the freezer aisle could use some warmth. So thinks one of Canada's biggest homegrown brands, McCain Foods. It is revamping its frozen potatoes with bright packaging, new products and a focus on Canada's many small households that don't eat as many french fries as families might.

The changes hit shelves in August, followed by a major marketing campaign (the company declined to give a dollar figure to its size) in- store, on TV and online.

The goal: improve shopability and make frozen potatoes synonymous with warm, fun meals–not just for dinner, but as snacks and breakfast, says Vikram Bawa, McCain's vice- president of marketing.

"There are a lot of usage occasions we are not playing in with frozen potatoes," Bawa says. "The more people have in their freezer, the more they'll consume, unlike, say, coffee. It doesn't matter how many jars of coffee you have, you're only going to drink so many cups. But the opportunity in frozen potato is huge."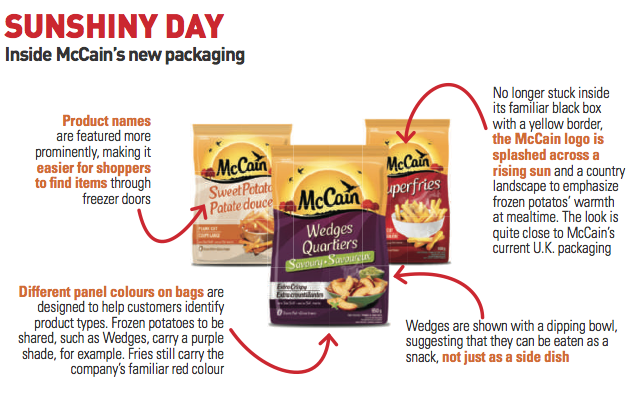 IT'S ALL GOOD

With around $7 billion in annual sales, McCain is one of Canada's largest and best- known food makers. In May, Canadian Business magazine listed McCain as the 7th Best Brand in Canada.

Founded back in 1957, by Harrison and Wallace McCain, and their two brothers, in tiny Florenceville, N.B., McCain is now a global giant. It does business in 160 countries and, today, signs at Florenceville's town limits boast to motorists that they are entering the "French Fry Capital of the World."

READ: For McCain, it really is all good

But it's a health-conscious world, too, and many don't exactly view fries as healthy. To change that perception, McCain launched "It's all good," four years ago. The company's entire lineup (fries, pizzas and more) was remade using only recognizable ingredients. That was no easy feat. It took 70 tries, for example, to remake kid-friendly Smiles. The upcoming relaunch of frozen potatoes is something of a next step, Bawa says, from ingredients to how people shop and eat.

BEYOND THE RED BAG

The potato category is no small spud. It generates $730 million in annual sales; some $500 million is fresh and $200 million is frozen. The average Canadian eats potatoes at 105 meal occasions a year, but only about 15 of those meals are with frozen potatoes. Bawa believes that number can be increased.

The revamp has several parts. One is new packaging of the 40-plus-SKU frozen potato line that segments different products by colour. For instance, new breakfast potato bags feature orange prominently. "One of our a-ha moments was when customers told us, 'I just go to the shelf and reach for the red bag,' " says Tom Szostok, McCain's VP of sales. "But all of our products were in red bags. So consumers didn't know our full range."

New-package trials have proven positive. In one test, consumers were presented with a mock shelf set and told to "pick up what you normally buy," explains marketing director, Paul Gallagher.

READ: McCain Foods sells frozen pizza business

The result: "Shoppers were seeing products they'd never noticed before," such as McCain Sweet Potatoes and Red Skin Potatoes.

Another big change: the iconic logo. New bags feature the McCain logo outside of its familiar rectangle box and over a warm sunrise and a farmer's field. The same elements will show up in marketing "about warm meals, warm snacking," Bawa says.

New products will also hit shelves: lattice-cut fries, new wedges and onion rings. All three have one thing in common: they're ideal for snacking, or "sharing," as Bawa puts it. "What we learned in our research is that as people get together, the idea of a hot item as a snack has great appeal." Wedges with dips, for instance, can replicate at home the appetizers friends might share at a pub.

AN UNTAPPED MARKET

The idea of frozen potatoes as sharable snacks also ties in with a largely untapped demographic: one- and two-person house- holds, which make up 60% of the Canadian population. Consisting mainly of boomers and seniors on one end of the age spectrum and millennials on the younger side, these consumers can eat frozen potatoes as little as two to seven times per year, compared to as many as 20 times for families. Bawa says McCain will target this group in its marketing. "For younger adult households, that's where the sharing aspect comes in."

Convenience in everyday meals will also be highlighted.

"If you're having ham or an omelette for breakfast, why not enhance it with a potato?" Szostok says.

READ: McCain closing P.E.I. French fry plant

McCain isn't alone in trying to build shopper interest in frozen food. In May, the American Frozen Food Institute embarked on a three-year, US$90 million campaign to reverse sliding category sales. The organization, whose members include ConAgra and Nestle, launched "Frozen: How Fresh Stays Fresh" to show that, contrary to perception, frozen foods aren't lacking nutrients, nor are they packed full of additives and chemicals.

The ads are aimed at Americans, but thanks to cable TV, Canadians are seeing them as well. "The grocery-shopping public is constantly bombarded with messages to buy fresh foods, shop at farmers' markets and buy 'local' at the expense of frozen foods, says AFFI spokesperson Adrienne Richards. freezing is a natural pause button that helps food stay fresh."

Frozen sales in Canada aren't in free-fall, but they are flat. Frozen potatoes, though, were up 3% last year in dollar volume, Szostok says, with potential to do even better. Szostok has been meeting with grocery chains on how to market the revamp in stores. "We want to turn what is now a cold french fry into a warm mealtime occasion and bring change to the frozen aisle," he says. "There's room for some explosive growth."