Starbucks fixes segment blurring problem
Last July, Starbucks had a big media push when they launched their handcrafted Refreshers in their coffee locations with two flavours - Very Berry Hibiscus and Cool Lime.

These two flavours were also made available through their VIA line of at-home self-serve packages.

Most recently, they have followed up the handcrafted beverage offering launch by introducing three packaged sparkling beverages launch.

Joining the handcrafted and VIA Refreshers are: Raspberry Pomegranate, Strawberry Lemonade, and Orange Melon.

The launch of these packaged offerings created a problem for Starbucks and retailers alike: segment blurring.  Segment blurring occurs when products within one segment encroaches on products from another segment.  Since the Refreshers are made with green coffee bean extract, should they belong in the coffee section?  Or does it belong in the energy drink section?

According to Kevin Reid, Starbucks' director of beverages, in an interview with Canadian Grocer these new beverages belong in its own section.  It appears that Starbucks anticipated the problem as a result of this beverage innovation.

By extracting the caffeinated energy content from coffee beans to make energy drinks, they understood that retailers would have difficulty fitting it into one section.

As such, the interview suggests that retailers create a specific area to group all the Starbucks products together in order to make it easier for the shopper to locate any Starbucks products.

Why should a retailer agree to a dedicated Starbucks section?

It turns out this makes sense in more ways than one.

Starbucks products are "destination" drivers in their own right given the coffee giant's standalone retail locations.  Customers consciously choose to go to Starbucks coffee locations to purchase their Starbucks coffee.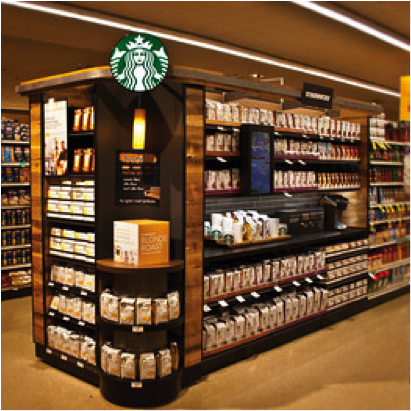 Lending support to re-create this destination experience in grocery retailers is that customers expect to find all Starbucks products when they visit a Starbucks outlet.

Over the years, Starbucks has complimented their handcrafted beverages by stocking packaged coffee beans, beverage holders, and CDs in their branded stores.

Finally, Starbucks' willingness to invest in décor for the grocer's coffee aisle demonstrates their dedication to replicate the signature experience everywhere.  Starbucks understands that developing the Starbucks cafe experience requires a collaborative effort and has indicated they are willing to give the retailer Starbucks-type shelving.

Would the retailer be open to more Starbucks innovations in the future?  The Canadian Grocer interview reveals that retailers have been pleased with Starbucks sales.

And as long as Starbucks maintains its demonstrated collaborative efforts, retailers would certainly welcome more Starbucks products to help build grocery trips and baskets.
More Blog Posts in This Series